Ok… so I've I've not been to the theatre to see a movie lately besides The Force Awakens. I know shame on me, but the holidays kept me home more than usual. So, I busted out my new ROKU 2 player, courtesy of Santa, and have been all over stream-dom watching all sorts of things. Here's a taste of what I've found to be worthy, and where I found it.
Starring: Toby Stephens, Zach McGowan, Luke Arnold, Jessica Parker Kennedy, Hannah New and Toby Schmitz
I had been meaning to catch up on this STARZ series before the new season unveils on January 23rd, and used the holiday period to do so. (It's not too late to catch up – there's only two seasons of 10 episodes each and marathons are running as well.) In fact, this and Blunt Talk are a few of several reasons why I caved and signed up for STARZ again via my cable provider. (I think that STARZ may now available as a streaming app without a cable provider, but don't quote me on that.)
So a series about pirates, exec produced by Michael Bay even, does not sound like something a chick would want to watch. However, I found that Black Sails was about so much more than that. Set in Nassau, the main characters are rival captains, Vane and Flint, with Eleanor Guthrie who is the monopoly marketeer of goods. Add troublemakers Mr. Silver, Mrs. Barlow and Rackham with May, the savvy madam at the local brother as well – and set them off conniving and contriving and competing to see who can get some good old Spanish gold – first.   The level of intrigue is comparable to House of Cards, and alliances can turn with a word.  Season 2 delves more into character back stories adding depth and providing some shockers too. Season 3 is adding Ray Stevenson as infamous Blackbeard of pirate lore, and I just saw an article from Variety that the show has already been renewed for season 4. I tend to favor Flint as the hero, but I've yet to figure out who's truly the best of the worst.
MI-5 (On Demand – aka Spooks: The Greater Good)
Starring: Kit Harington, Peter Firth, Elyes Gabel, Jennifer Ehle, Tuppence Middleton
Not to be confused with the fifth Mission Impossible film Rogue Nation (which is amazing and totally worth seeing too), this film is essentially a stand-alone and continuation from the crazy, good British series MI-5 aka Spooks, which ran 10 seasons. This films picks up with Harry Pearce once more, as he goes coloring outside the Security Services' lines (I'm seeing a trend with these spies lately) to save the Queen's royal subjects by foiling a deadly terror plot. Kit Harington (Game of Thrones' Jon Snow) is tapped as a disavowed spy who comes in from the cold to assist Harry in his game. But, can Harry be trusted?
There's a great cast, and a bit of a twist ending. Enjoy it for the good popcorn film that it is. Watching this also reminded me of how good the show was, and I commenced re-watching the series immediately following (available now on hulu). The show consistently maintains a level of suspense, drama and ambiguity that will keep you on the edge of your seat and entertained for days and days. If you like Homeland or Bond, then check out both the MI-5 film available for rental and on demand, as well as the series if you can't get enough.
The Hundred-Foot Journey (Showtime)
Starring: Helen Mirren, Om Purl, Manish Dayal, Charlotte Le Bon
This is one of those movies that is almost in the fantasy realm. Set in idyllic and pastoral France, it's about dueling restaurants, literally one hundred steps apart. One is a Michelin-starred, critical darling serving très traditional French cuisine and is operated by the stiff, snooty Madame Mallory (Helen Mirren). The competition, and only other restaurant within 50 miles is the homey, ethnic Maison Mumbai run by a family of Indian immigrants, headed by patriarch (Om Puri) and son, gifted, intuitive chef Hassan (Manish Dayal). Of course, the Indian restaurant is wildly successful, and everything that Hassan cooks is a gastronomic delight. Mostly, this is about allowing people to surprise you — if you give them the opportunity.
It's a sweet and colorful film filled with delightful characters, and food so beautiful that you can almost taste it. (Currently, airing on Showtime.)
Starring: Stellan Skarsgård, Nicola Walker, Leslie Manville
Skarsgård's John River is a genius of a detective, but with that he carries around a bit of baggage that toys with his sanity. I won't spoil it for you, but this season of 6 episodes follows as he solves the murder of someone close to him. It's terrific, and tense and it keeps you in the dark until the last moment. You won't figure it out until he does. So he's a little nuts… the brilliant ones always are. Watch it.
Starring: Dan Spielman, Ashley Zukerman, Lucy Lawless, Aden Young, Adam Garcia
The Code is an Australian-made, 6-episode suspense drama that gives you a good sense of how vast and diverse Australia truly is. It's got a bit of a cowboy feel to it, as there are still parts of the Outback that are just that wild and untamed. The series follows two brothers who get tangled up in a cover-up involving politicians, big business and perhaps intelligence operatives? Ned is a journalist, and Jesse is a hacker extraordinaire with a touch of the OCD or Aspergers, or something that keeps him from functioning fully. The story follows them as they unravel the mystery surrounding the deaths of two aboriginal teens in a remote part of the Outback. It looks like this is season one of two, though there was a concrete and satisfying ending to this story arc. It will take you until Ep 2 to get into it, but by then you will be hooked.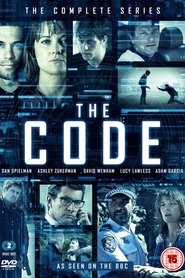 Cindy Says: There… that should keep you awhile!! Until the next!